Goldberg captures these deeper elements of writing in their book in order to help writers communicate more fully through their words. For the author, great writing is a product of facing difficult subjects head-on and then inviting others onto the journey with you.
The Best Books on Writing That'll Help You Master Your Craft
You have several half-read books on writing stacked up on your nightstand, several more squirreled away in a desk drawer and a dozen more on book recommendations your Amazon wish list.
You scrutinize all the books that "customers also bought" looking for those one-of-a-kind books that will transform you into a great writer that clients and readers adore. You jump "inside the book" to read the table of contents and credits and page through the free preview.
Books have an uncanny power to teach us, to transport us, to move us light years beyond our ordinary lives. If we could only find the right books, the tried-and-true books written by trusted masters. So we keep looking.
And once in a while you find a writing book that speaks to your heart and gets to the core of what you're struggling with right now. It changes you. It changes your writing. It changes your life.
The Best Writing How-To Books
Everybody Writes: Your Go-To Guide to Creating Ridiculously Good Content by Ann Handley
Millions of new blog posts and other pieces of content hit the internet every single day. Ann Handley's book is a must-have guide that shows content producers what it takes to stand out in a space where competition is fierce. With an accessible style, she takes on everything from how to write to grammar and usage to best practices. Perhaps my favorite part is Handley's formula for creating content with a focus on empathizing with the reader and telling a great story. This isn't just a how-to-write guide, it'll also help you uncover what to write.
Write Tight: Say Exactly What You Mean with Precision and Power by William Brohaugh
Writers are encouraged to make their writing lean and precise. Which is great advice, but how do you do it? Brohaugh, a former Writer's Digest editor, offers all the necessary how-tos in this book. He teaches writers to eliminate redundancy, recognize and squash empty modifiers, and remove other dead weight that slows writing down. Although it's sometimes criticized for being a bit pedantic, Brohaugh's guide gave me some striking Aha! moments when I first read it about a decade ago, which is why I heartily recommend it.
The Sense of Style: The Thinking Person's Guide to Writing in the 21st Century by Steven Pinker
Although Strunk and White's The Elements of Style is a time-honored classic, its prescriptive approach to language isn't for everyone. Enter Harvard professor Steven Pinker with a more contemporary take. His witty approach recognizes that language is fluid and that, while it's good to know and follow the rules when it makes sense to, expressive writing often relies on bending them. Writing newbs may find this book challenging, but it's full of insight for those who already have a grasp on grammar and style and want to improve.
Writing Books Every Writer Should Read
On Writing
A writing book from the world's leading horror writer that will help you understand what it takes to write consistently, find your muse, and master your writing toolbox.
Yet, when confronted with the idea of listening to his audiobook (narrated by the author himself), I decided to buy it and see what this bestselling author has to say about the craft. I don't really know why I bought it; it just caught my eye.
To my delight, listening to this book was incredibly pleasurable; Mr. King did a terrific job of sharing his philosophy of writing and his attitude towards it.
I wasn't expecting to learn as much as I did from his book. If you've read some of my articles on this site, you will have surely seen I quote him every two articles. On Writing is that good.
Best Quotes from On Writing
Let's get one thing clear right now, shall we? There is no Idea Dump, no Story Central, no Island of the Buried Bestsellers; good story ideas seem to come quite literally from nowhere, sailing at you right out of the empty sky: two previously unrelated ideas come together and make something new under the sun. Your job isn't to find these ideas but to recognize them when they show up.
There is a muse, but he's not going to come fluttering down into your writing room and scatter creative fairy-dust all over your typewriter or computer station. He lives in the ground. He's a basement guy. You have to descend to his level, and once you get down there you have to furnish an apartment for him to live in. You have to do all the grunt labor, in other words, while the muse sits and smokes cigars and admires his bowling trophies and pretends to ignore you. Do you think this is fair? I think it's fair. He may not be much to look at, that muse-guy, and he may not be much of a conversationalist (what I get out of mine is mostly surly grunts, unless he's on duty), but he's got the inspiration. It's right that you should do all the work and burn all the midnight oil, because the guy with the cigar and the little wings has got a bag of magic. There's stuff in there that can change your life.

The Only Grammar Book You'll Ever Need

This is simply what it says it is on the front cover (apart from the other books on this list of course). This book's a great resource for people to sharpen up their grammar skills, regardless of what you're writing. It covers everything you'd ever need to know about producing top quality writing; whether you need advice on which words to use, how to phrase things, punctuate sentences or simply organize and structure your work.
"This truly may be The Only Grammar Book You'll Ever Need. I am a tutor and have found this book indispensable; it's especially useful when coaching students for the SAT-II Writing exam and the English section of the ACT. Any grammar question you can possibly have seems to be in here, and it's very easy to reference. I can't imagine being without this book." – Lulu
Best books on the business of writing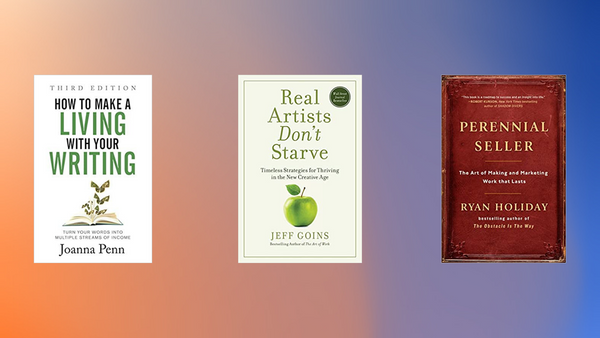 Real Artists Don't Starve by Jeff Goins
Chapter by chapter, the author gathers examples of successful artists, writers, and creators and breaks down the business models they use to succeed with their work.
Perennial Seller by Ryan Holiday
Nothing has sunk more creators and caused more unhappiness than this: our inherently human tendency to pursue a strategy aimed at accomplishing one goal while simultaneously expecting to achieve other goals entirely unrelated. ― Ryan Holiday
How do you make something that lasts beyond your lifetime? This is the question Holiday answers with their book by examining common elements from the classics still read today.
Beneath the discussion of enduring work is the theme of funding that work. Despite the rare cases of broke artists becoming famous after their deaths, most of the classic works we still interact with today were popular when they were current.
How To Make a Living With Your Writing by Joanna Penn
Thanks to the internet, there are now dozens of ways to earn money as a writer. The author made most of their income from self-publishing books and making those books available in multiple formats (digital, audio, paperback).
The book covers a host of alternatives, including ways to monetize a blog or newsletter, how to leverage writing into consulting or speaking opportunities, and the best ways to start freelancing.
References:
https://smartblogger.com/essential-writing-books/
https://www.grammarly.com/blog/books-that-improve-writing-skills/
https://contentfiesta.com/books-on-writing/
https://www.lifehack.org/articles/communication/15-books-for-everyone-better-their-writing-skills.html
https://ghost.org/resources/best-books-on-writing/