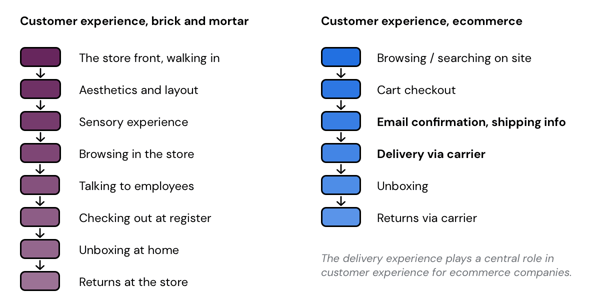 What is the difference between ecommerce and brick-and-mortar supply chains?
Let's start with an obvious but important point: An ecommerce business is fundamentally different from brick-and-mortar (B&M), which means the supply chain that supports an ecommerce business is fundamentally different, too.
Some components of the supply chain are more important while others might not exist. For example, fulfillment centers (FC) are designed differently for ecommerce delivery, while distribution centers (DC) can be cut out entirely because there is no requirement to deliver goods to a storefront.
On average the number of SKUs for ecommerce businesses is higher than B&M models, which means more variability with processes and packaging.
Ecommerce inbound logistics focuses on optimizing allocation, whereas B&M inbound is about uniform distribution to DCs and optimizing delivery to stores (over/under stocking).
Ecommerce inbound logistics can be directly associated with a customer order. For example, Amazon's "More on the way" message means any purchases of the out-of-stock item will be immediately shipped to the customer when available.
FC is focused on "single-piece flow" or streamlining picking to sorting to packaging an order.
Returns are a different experience—go to the store versus print a label and ship back—making reverse logistics very different.
Service Level Agreements (SLAs) matter more for ecommerce models, as the expectations are different for the movement of goods to consumers.
Lastly, it's easier to understand demand for a product that is out of stock due to the digital nature of ecommerce stores, as opposed to an empty shelf in a physical store. This has major impacts on demand forecasting, purchase orders, and allocation.
Supply chain management's biggest challenges — and opportunities
As digitization continues to cause disruptions and changes to the manufacturing industry status quo, supply chain management continues to get more complicated, and the relationships involved more strained. On an optimistic note, these challenges also provide manufacturers with their biggest opportunities for improvement.
Beyond cutting costs and simplifying fulfillment logistics, proper supply chain management presents significant opportunities: the expansion of your sales channels, particularly online, and improved customer relationships.
This is in line with manufacturing trends we're noticing based on the latest data gathered by Sapio Research. Based on the data, around 50% of overall revenue for manufacturers is generated via online sales, while 42% of manufacturers have also noticed customer relationships improving as a result of investing in digital strategies. It is vital for manufacturers now more than ever to invest in digital solutions that optimize the supply chain in order to appeal to B2B buyers' B2C shopping biases.
Ready for 2022?
While the expansion of your sales channels and increased overall revenue are already major benefits of a B2B e-commerce supply chain management solution, an e-commerce solution also provides you with the opportunity to prioritize your customer relationships.
For B2B organizations who are optimizing their supply chain management, e-commerce is the key to increasing sales and profit margins, while also improving customer relationships and business agility. Here's what our research tells us: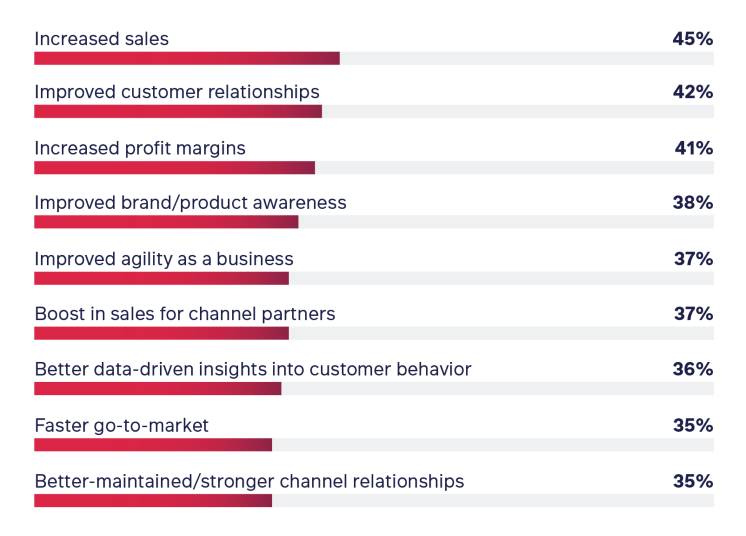 These initiatives all go hand-in-hand. B2B e-commerce supply chain management should always start with an overview: Map out your supply chain network and gather as much data as possible about what your business is currently doing, what's working, where you don't have enough data or visibility and where your areas of opportunity are.
Supply Chain and Fulfillment assessment
Defining your strategies starts with an assessment of your Supply Chain and company fulfillment center. This assessment should include a warehouse operations audit or assessment, which will help you determine if your warehouse operation is as efficient as possible. Take into account quantitative and qualitative aspects of the warehouse operations, processes, and systems.
Each company's Supply Chain and challenges are different, so strategies are not a one-size-fits-all game. Here are 10 major strategies we are consulting on with multichannel ecommerce, wholesalers and distributors. Only proper assessment and alignment to your company's goals make it the strategy for you:
1. Make the inbound Supply Chain more efficient
Regardless if you're an omnichannel retailer or a pure play ecommerce business, getting inbound products and materials on-time and as ordered is a major initiative in many companies. Your objective should be to receive the product so that it can flow through to put away or be cross docked to fill orders.
2. Lower shipping cost and delivery time
3. Increase capacity of the existing warehouse
Moving to a new center is not always the answer. Without the proper layout and design of your distribution center, no matter the square footage, you will face capacity issues, decreased productivity, and storage inadequacies. By addressing some basic principles, your company can delay a move to a new facility.
4. Increase paperwork accuracy and decrease processing time
One of the foundation technologies for warehouse systems and automation is implementing bar code technology. Barcodes let you track the "what," "who," and "when" for all activities within the warehouse's four walls. Making barcode usage one of your first strategies will pay immediate and future dividends.
5. Manage labor more effectively
Most fulfillment centers and warehouses rely on manual labor, which is not cheap. If you can't achieve a favorable return on investment in applying automation, managing labor more effectively should be a major strategic goal for your fulfillment center.
Consider how changes in labor can lower cost per unit, line, order and carton shipped.
Read our blog post on tips to manage labor more effectively and identify opportunities for your business to improve productivity.
6. Increase the number of picked orders per day
Order picking is one of the most important functions in the warehouse. Order accuracy and timely order fulfillment are keys to a successful customer experience. Picking and packing are generally the two areas where companies can also gain the most significant labor cost savings.
For larger distribution centers, voice picking, pick-to-light (and put-to-light), picking modules and robotics automation may give a return on investment for many applications. But, they must be designed to your facility, products and material handling.
Read our blog post on picking methods and pick the best options for your business.
7. Use current warehouse space more efficiently
Warehouses are expensive for companies to operate considering the total fulfillment costs of labor, occupancy, and storage and material handling assets. Often, warehouse space is 15 to 20% of the cost per order.
8. Reduce outbound shipping costs
This is an on-going initiative in every client's business. The cost of outbound shipping exceeds the sum of all other fulfillment costs. It will continue to go up because of the lack of options.
Look at your shipping data. What room is there for better negotiation of rates? Do you use rate shopping? Can an enterprise wide shipping system lower costs?
Identify ways to address these 11 areas of savings resulting from using shipping systems.
9. Use of third party logistics versus internal fulfillment
Should your company continue to maintain and operate its own fulfillment facility? Can you achieve faster delivery with multiple distribution centers from a third-party logistics (3PL) provider? This strategy isn't for every company, but many large companies make cost effective use of 3PL.
10. Select and implement a new information systems
Whether it's an ERP, OMS or WMS, this strategic objective is one that many companies should have. Many companies need new systems as a foundation for more advanced technologies and automation.
However, as you evaluate this strategic objective, be aware that studies show and our experience confirms, about 50% of the larger installs (those spending over 800 million) are not delivered on time or within budget. These projects sometimes put companies at risk because of the costs and implementation approaches.
Sources:
https://www.shipium.com/blog/ecommerce-supply-chain
https://www.sana-commerce.com/blog/supply-chain-management-ecommerce-b2b-revenue-acceleration/
https://www.fcbco.com/blog/bid/156247/10-supply-chain-strategies-for-ecommerce-businesses